Four Major Points + Bossons Ivorex + Briar Rose Collection
Not all plaster figures are Bossons! Most Bossons are identified by the name engraved on the back. Buyers, Sellers, and all collectors should be aware, that fake Bossons are widely sold on the internet. They are often called Bossons when they are simply plaster castings and, as such, are not Bossons. When in doubt about authenticity, seek expert advice.
THE MOST POPULAR CHARACTER STUDIES
BOSSONS SEAFARERS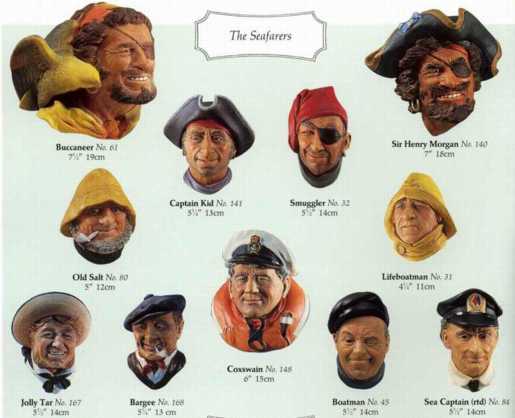 Click to view larger

BLACKBEARD (1993)
5" NO. 221

SINDBAD, THE SAILOR (1996)
5-1/2" NO. 250

CLIPPER CAPTAIN (1993)
5" NO. 220

ARUJ BARBAROSSA (1994)
5" NO. 229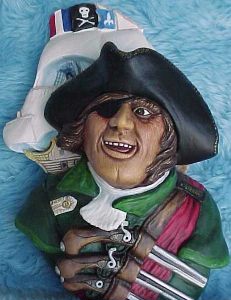 Captain Pierre Le Grand (1994)
8" NO. 230
I. Legend and Naturecraft products, and other plaster character studies that just say "Made in England" are not Bossons, though similarities may be seen. Reason: several sculptors for Bossons also worked for other English companies, primarily Fred Wright. He did "free-lance" work for Bossons and then in 1957 became Bossons' full-time exclusive modeler and art director remaining in that position until 1972. Mr. Wright created some of the most coveted Bossons which include: Bare-Arm Cheyenne Indian, Warrior Panels (Zulu, Sioux, Afridi, and Berber), Indian Chief, Cavalier, Deccan Hunters, Sherpa & Peon, Mikado & Geisha, Dickens Characters, Military Masks (1st and 2nd ed.), Highwayman, Churchill, Kassem, Beefeater, Pathan, Romany and many wildlife figures including Birds & Sunflowers, Gibbon, and Golden Puma.
A PHOTO OF FRED WRIGHT IS SHOWN LATER IN THIS WEB SITE.
II. Remember, not all Bossons have the names incised under the collars. Following are pictures of four Bossons that do not include names, however, as explained below under (3), be aware of fakes and look-a-likes. Bossons are most often incised on the back with the typical trademark of BOSSONS MADE IN CONGLETON ENGLAND COPYRIGHT with date.
FOUR BOSSONS CHARACTER WALL MASKS
From the Series "B" measuring 5-1/2"
| | | | |
| --- | --- | --- | --- |
| Smuggler | Tyrolean | Syrian | Tibetan |
With no names under the collar:
III. BE AWARE OF FAKES AND LOOK-A-LIKES.
Bossons have been illegally copied and molded over the years in every medium possible including metal, plastic, rubber, wood, and even the "wrong" kind of gypsum plaster.
The backside of the Bossons is one of the easiest ways to identify a Bossons.
To help with the problem of identifying an authentic Bossons, the following are four common backsides of Bossons, along with their typical hooks for hanging. Click on the images to see a larger version, then hit your browsers back button to return here.
Back of Smuggler

No. 32(see No. 1 above)

INSIDE HANGER

BOSSONS (R)

CONGLETON

World Copyright Reserved

Back of Caspian Man

W/2 sideburns Series B

OUTSIDE HANGER

BOSSONS

ENGLAND

COPYRIGHT RESERVED (c) 1958

Back of Syrian

No.36(see No. 3 above)

OUTSIDE HANGER

BOSSONS

ENGLAND

WORLD COPYRIGHT

Reserved

Back of Caspian Woman with Veil

RING HANGER

BOSSONS

ENGLAND

Copyright Reserved

"P"
Above all other considerations, if you want to learn more about Bossons, and how to authenticate these collectibles, we cannot over emphasize the importance of becoming an active member of the International Bossons Collectors Society (IBCS) and attend the annual meeting. Authentication and knowledge of rare and common Bossons is an on-going topic for lecture and discussion at the IBCS. Quarterly publications of the IBCS include color pictures and valuable studies by collectors and authorities in the field.
The next meeting, the 33rd is planned for
Next May, 2018
date to be announced
Consult the official IBCS web sIte for more information
On the Internet today, and the most popular auction sites, it is disappointing to see uninformed collectors purchasing Bossons in deplorable condition and even fakes. In many instances the Bossons are described as "Rare and Very Rare" or "MINT" condition and these descriptions are often given for the most common Bossons when, in fact, they are often VERY COMMON and in deplorable condition. Common examples of Bossons are the four Character Heads pictured above. Thousands of these particular Bossons were released worldwide.
IV. Bossons were created and released to the public under the following names:
Bossons "Character Wall Masks," Wall Sculptures and Wall Plaques (plaster and pottery)
Fraser-Art and Fraser-Art "Crown Limited Editions" (Stonite(r)/plastic) (i)
Bossons "Briar Rose" (plaster animals painted in simulated rose wood colors)
"Ivorex" Plaques, limited editions by Bossons, based on Osborne Art (plaster treated with a preservative wax) (ii)
(i) Bossons produced their products under several names, or subsidiaries, and then the Bossons were not only made of gypsum (plaster). For example, in the early years (1946) Bossons Senior made lead toys (Soldiers, Santas, etc.) under the Bossons name. Then, in an attempt to solve the breakage problems inherent in shipping the plaster items, later Mr. Ray Bossons and his associates invented a new process for molding Bossons in what they called "Stonite(r)," a hard plastic (PVC) substance capable of defining superb detail as well or better than in plaster. These Bossons were released under the name of Fraser-Art and Fraser "Crown Limited Editions." Ray Bossons named this division "Fraser Art" after his wife, Mrs. Ruth Bossons, whose maiden name was Fraser.
(ii) Do not confuse Bossons Ivorex products with Osborne Ivorex products or plaques. Osborne Ivorex are not Bossons Ivorex. After Osborne's death, Ray Bossons purchased all rights to the Osborne Art in 1965. Bossons Ivorex became Bossons Ivorex when a process of re-coloring and reframing the more popular Osborne pieces was undertaken and in many cases making them strikingly more brilliant, attractive and colorful.
Though deceased, John Smith's comprehensive study of Osborne Ivorex, available on CD, is available through his Web Site: Osborne Ivorex, copyright U.K. and U.S. A.

BOSSONS IVOREX, 1990
Shakespeare's Birthplace
Ultra High Relief Scenic Plaque
No. 180 (6-1/2" X 9")


OSBORNE IVOREX
"Landing of the Pilgrims, 1620"
Rectangular Plaque (6" X 9")

BOSSONS IVOREX
Instructional and convenient "Hang or Stand" Backs


OSBORNE PLAQUE
Back view with hanger



YANKEE DOODLE DANDY

Rare Bossons Ivorex Plaques
(Rectangular 8" X 6-1/4 & 6-1/2" )




"Birthplace of the Flag
of the United States of America"


"Yankee Doodle" The Spirit of '76




The strongest advice we can offer here is
KNOW YOUR DEALER OR SUPPLIER
WHEN YOU ARE PURCHASING BOSSONS!
Seek professional advice and study the information on this web site

www.collectiblebossons.com or email Dr. Don Hardisty: